Blog
The Best Podcast Equipment for Every Budget
Take your podcast audio to the next level with Lower Street's top podcast equipment recommendations for beginners and experts alike.
Last updated on: 13-12-2022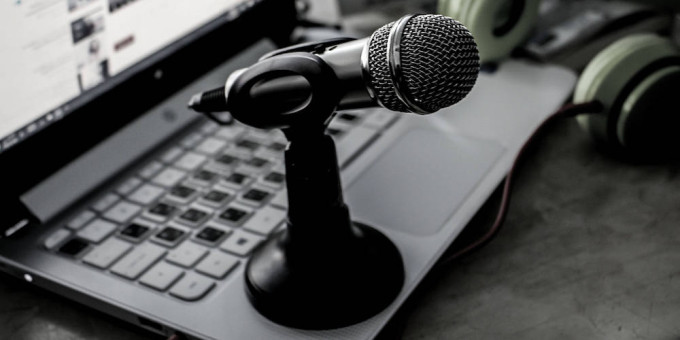 Investing in equipment can either make or break a podcast. Whether you're about to start a podcast, in the early stages, or needing to upgrade, sourcing the right gear without making big mistakes can be difficult.
In this article, we break down the hardware and equipment that every podcaster needs. We've also included top recommendations from the team who use them daily. By the end of this post you'll have a podcast equipment list that suits your needs and your budget. Let's dive in.
What to Consider Before Purchasing Podcast Equipment
Podcasting can be as simple as hitting a record button and editing the audio slightly. It can also be as complex as having a fully equipped sound studio with all the top-grade hardware.
Thankfully, even the average podcaster can find many budget-friendly options that can produce excellent audio results without the huge expense. But, before you buy what you think you need, it's worth asking yourself a few questions and then investing in what you do need.
What Is Your Budget?
Larger businesses may have a more robust budget to invest in equipment, whereas an individual podcaster often does not. The bigger the budget, the better quality equipment you can buy.
However, there is one thing to consider. Even with a smaller budget, you can still get to where you want to be with your podcast. Plenty of podcasts started out on a shoestring budget, with just their laptop and a simple USB microphone.
Take stock of how much you are willing to invest in your podcast. Usually, a podcast setup will consist of: a microphone, headphones, a computer, and recording software. Do you have the capacity to put $100, $1,000, or $10,000 towards your podcast?
Understanding this particular point will help you buy the necessary equipment, rather than overspending on items you want. Remember, you can always upgrade your studio later on.
What Is Your Podcast Format?
A podcast format is how a podcast's content is organized and structured. Some examples are an interview-style show, monologue (known as a solocast), panel show, or a narrative podcast that favors rich storytelling and editing.
Each of these formats requires a specific setup, and therefore specific equipment and hardware. For example, a solocast only needs limited items: a mic and stand, headphones, and a laptop.
However, for a panel show or narrative podcast, the scope for buying more equipment gets bigger. Usually, you will need more than one microphone (plus stands for each), a sound mixer, multiple pairs of headphones, etc.
Another important factor is whether you'll be doing your podcast in one place or moving around. If the latter, having easily portable podcast equipment can make all the difference.
So, think about the type of podcast you're looking to create, factor your budget into that and work out the level of equipment you want to buy.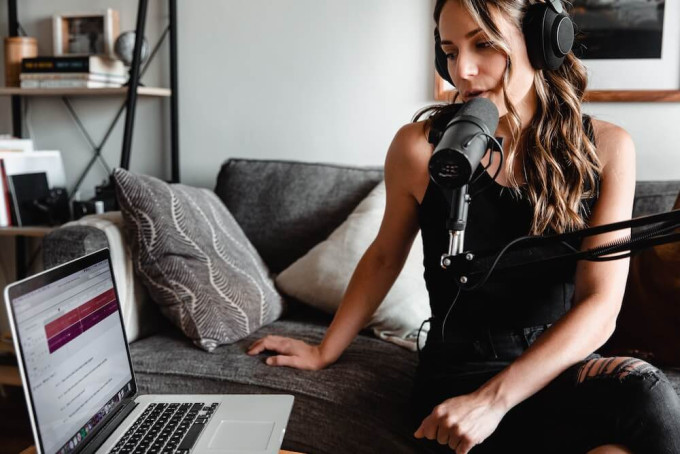 Podcast Recording Space
Investing in a fully equipped podcast recording studio can be costly and isn't a viable option for most podcasters. Instead, many hosts choose to record in their own spaces, like their home office, closet, or even a backyard shed. But, so many of these spaces aren't well-equipped to reduce sound issues such as reverb, echoes, and other external noises.
Consider where you will be recording your podcast. In larger rooms or spaces with a lot of smooth surfaces (e.g. kitchens) there will be vocal reverb, which leads to an echo within your recording. To help minimize this, you want to reduce the sound waves' reflection off these hard surfaces. Surround yourself with soft furnishings and add as much sound absorption as possible.
The type of room you record in will affect the general podcast gear you need—especially when it comes to microphones, stands, recording devices, and audio interfaces.
The best spaces to record are small, quiet, and devoid of hard surfaces (tiles, glass, wooden floors, mirrors). They should have soft furnishings and be carpeted (or have rugs).
If your space doesn't have all of these attributes you can always buy specialized absorptive materials, such as soundproofing squares that you can attach to the wall. Microphone isolation shields that sit behind the mic are also a good idea.
Let's Talk Gear
In theory, anyone can make a podcast with a smartphone and a laptop. And that's the beautiful thing about podcasting—the barrier to entry is pretty low. Anyone and everyone can begin their own show.
But, taking the basic, watered-down approach can only get you so far. As the standard of audio quality online rises, investing in better-quality podcast equipment has real benefits. Not only for you, but also for your listeners.
Microphone
The number one piece of equipment you will need to record your podcast is a microphone for each host and guest. While it's always best to go for a high-quality microphone, the term "high-quality" is relatively subjective. So, here are a few things to consider before buying a podcast microphone.
There are two types of microphones: dynamic and condenser mics.
Generally, condenser microphones produce sound that's high quality, but they can be very sensitive. Most of them come with a shock mount that cuts out vibration, but having the right recording environment is equally essential.
Dynamic microphones are often the most cost-effective choice. They are hardier and can handle external noise at a better level than condenser mics.
Next, there's the matter of how your microphone connects to the sound recording device or computer. There are two ways you can connect a microphone to your computer: USB or XLR.
USB microphones that plug directly into your computer's USB port are convenient and often cost-effective. The USB options require minimal setup, are easy to install, and are also low-cost and portable—which is why budding podcasters favor them.
For example, Logitech's Blue Yeti USB mic is famous for capturing good quality audio and at around $150, it's still within most people's budgets. However, there are downsides to USB mics. The sound isn't as great and you can only record with one mic at a time, giving you reduced control.
Investing in an XLR connection is a better choice if you're looking for higher-quality audio and need multiple microphones for guests.
One thing to note: XLR microphones require an audio interface or "mixer."
We Recommend:
Audio Technica ATR2100

Audio Technica AT2005 USB

Shure SM7B microphone

Shure MV7 USB Microphone

Rode Podcaster
Some podcasters find it worth investing in an XLR microphone and cable for sound that's more professional and higher-quality.
Read: Proper Microphone Techniques & Placement Explained
Audio Interface/Mixer
If you are using an XLR connection, you'll need an audio mixer. A mixer will connect your microphone to your computer and provide more volume control and editing flexibility. The Focusrite Scarlett 2i2 is a simple-to-use audio mixer that connects XLR microphones to your computer via a USB-C cable.
However, if you want a more comprehensive set of studio controls, the RODECaster is an excellent option. You can connect up to four microphones and have more control via its eight programmable settings.
Windscreen or Pop Filter
Pop filters are inexpensive but necessary. Podcasters must get relatively close to the microphone to ensure their voice is clear. However, getting close can create popping sounds, known as plosives. Plosives occur when a pop of air shoots from your mouth into the microphone. These sounds often arise from words with hard consonants such as the first 'p,' 't,' 'k,' 'd', 'b,' and some 'g' words, such as "podcast" or "publish."
A pop filter or foam mic cover fits easily onto your microphone's stand and drastically reduces pops and plosives. These filters act as a barrier between the speaker and the microphone, dispersing the pop of air and stopping it from hitting the mic's diaphragm.
Pop filters are easy to come by and incredibly cost-effective, ranging between $10 - $40. There are some pop filters that are upwards of $50, but this is an excessive price tag in most cases. Our advice to you is to keep it simple.
Studio-Quality Headphones
Headphones are understated, yet crucial for podcasters. Wearing headphones allows you to monitor and adjust the audio in real time, plus they stop your mic from picking up any feedback.
Some choices include the Audio-Technica ATH-M20X, Beyerdynamic DT 770 Pro, and Sennheiser HD280Pro.
The most common headphones for podcasters are the closed-back model, as they help isolate the wearer from unwanted external noise.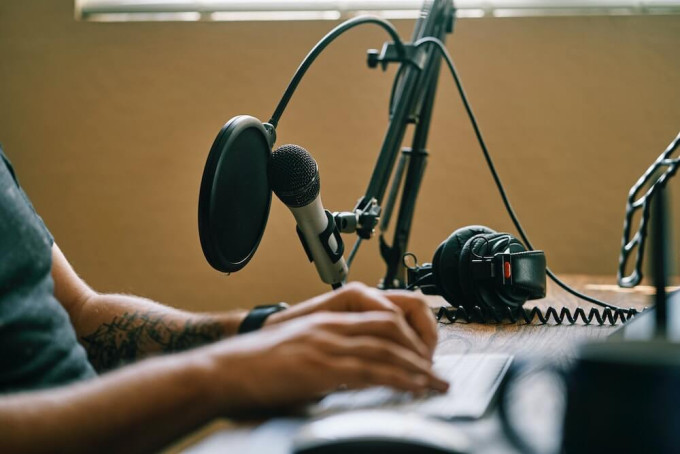 Adjustable Microphone Boom Arm and Stand
Microphone stands stabilize your mic and reduce the risk of unwanted noise from knocks and bumps on the table from reaching your microphone.
"What you're really after when you get a boom arm is that it's easy to reposition, but also that the microphone sits in a cradle. So that if you bump the table, or stamp your foot or anything like that, the shock waves don't transfer as strongly to the microphone," says Audio engineer, Alex Bennett
Stands and boom arms can vary in price, size, style, and robustness. As mentioned before, you have to have an idea of what your overall needs are. Will you be traveling for interviews? Will you be permanently set up in a studio? Do you need something that is highly adjustable?
When shopping for a suitable stand, consider your other pieces of equipment. For example, some microphone stands are way more stable than others. If you do decide to use expensive microphones and additional gear, choose an extra-sturdy stand.
From $30 to over $200, there is something for all price points and experience levels. Some choices include the Samson MK10 Lightweight Microphone Boom Stand for $30, the RODE PSA1 Microphone Studio Arm for around $100, or even the Ultimate Support MC-125 for roughly $200.
Pro tip: Make sure your stand is compatible with your microphone and its accessories.
Remember, cheaper boom arms often creak and squeak when moved. Also, if they are spring-loaded, they tend to sag over time, making it challenging to keep the microphone at a reasonable distance from your mouth.
Computer
Before you can start recording, you need a computer that is capable of running your podcast recording software. (The software you'll be using is what will capture and save your recording as an audio file.)
Admittedly, it doesn't matter which operating system you use, just as long as your chosen software is compatible and your computer is powerful enough to manage your digital audio workstation (DAW). Check all of your software's hardware requirements—CPU, RAM, and overall storage capacity. For example, Audacity's audio editing software requires 2 GHz of processing speed or similar and 4GB of RAM.
Podcast Software
Although this is an article about podcast equipment, it is worth noting that you will need to invest in some software. But, to reduce costs and save time, you should work with the podcast software that best suits your needs.
Consider how much editing you plan on doing, whether you're recording remotely or in-person, what your experience is with that kind of software, and of course, your budget. Having the right software can ultimately lift the quality of your sound during recording, so a bit of research is needed.
Remote recording software such as Zoom, Google Meet, or other video conferencing software will give you less flexibility than say Riverside or Squadcast. This is because programs like Zoom and Skype aren't necessarily geared towards a podcaster's specific recording needs.
Read: How to Edit a Podcast
Hosting Recommendations
After recording and editing your episodes, you must upload them online for them to be available to listeners. A podcast hosting site is a platform that stores and distributes podcast audio files. These sites provide you with a podcast RSS feed, which you submit to multiple directories, such as Apple Podcasts, Spotify, Google Podcasts, Stitcher, etc.
Every time you upload and publish a new episode to your hosting site, it automatically updates all your synced directories. This form of distribution allows listeners to tune into your new content within their favorite podcast app.
Many podcast hosting sites and services are available, and there's much to consider when choosing which one to sign up with. Price, technical support, monthly upload allowance, storage, podcast monetization, reliability, ease of use, analytic tools, and marketing features are some of the things to take into account.
Blubrry, Buzzsprout, Castos, Libsyn, Podbean, Simplecast, and Spreaker are great starter hosting sites.
They all provide monthly subscription services and vary wildly in their scope of features. It's worth diving into your overall podcasting goals to get a good idea of what you need from your hosting site and do some research before committing.
Anchor is an excellent free option that is relatively user-friendly. Owned by Spotify, this site is straightforward but has limited options. Unlike other host sites, you can edit on the platform, which means you can keep everything all in one place.
Lower Street Recommends
Of all the hosting sites we have worked with, our top suggestion for most podcasters is Transistor—especially if you have a big team or multiple shows. Its simple interface makes uploading, distributing, and monitoring episodes easy.
The data coming in matters for us, especially if we are running marketing campaigns or need a clear overview of how a podcast's content is performing. Transistor offers detailed statistics around monthly listens, average downloads per episode, total listens per episode, which apps and devices listeners are using, and which country listeners are tuning in from.
Transistor has three pricing plans:
Starter: $19/month, $190/year

Professional: $49/month, $490/year

Business: $99/month, $990/year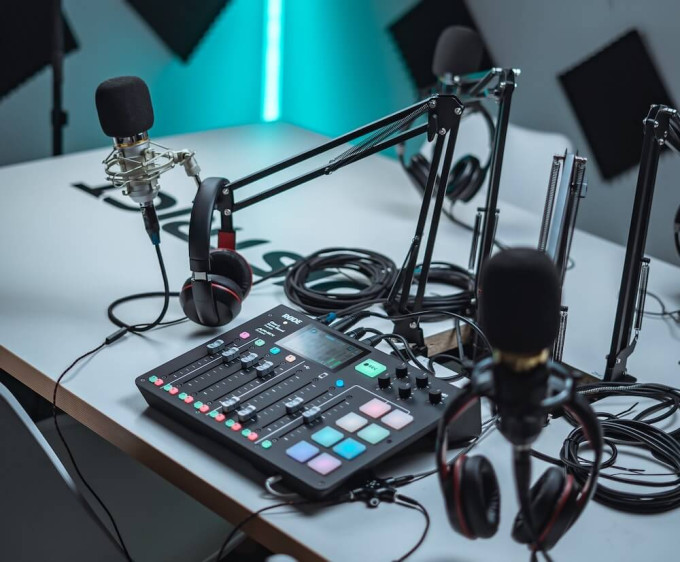 Beginner, Intermediate and Expert Bundles
Buying podcast equipment can feel like a guessing game with how much you need to spend. Every podcast equipment kit should include most or all of the items we've mentioned, but each can have a drastically varied price range.
Below are three podcast equipment bundles for three different budget ranges: beginner, intermediate and expert.
The Beginner Budget Podcast Bundle
Microphone: Blue Yeti USB microphone and Samson Technologies' Q2U USB/XLR Dynamic Microphone. Both microphones produce good quality sound and can plug straight into a computer using a USB cable. That means there is no need for a recording interface. ($70 - $90)
Mic stand: The Blue Yeti has a tabletop stand already built in. The Samson Q2U can be paired with the Samson MK-10. (Free - $25)
Recording interface: None. USB microphones plug into your computer with a USB cable, so there's no need for an interface with the Blue Yeti or Samson Q2U.
Computer: You can use your personal computer (Mac or PC) if you have enough capacity to save and edit audio files. (Free - $200)
Recording/editing software: Audacity offers a free multi-track audio editor. Although it's not the best option, it's great for beginner podcasters and works on both macOS and Windows. (Free)
Headphones: While simple earbuds can be used, it's worth investing in good, over-the-ear headphones—even if you are on a shoestring budget. Audio-Technica ATH-M20X are closed-back headphones at a great price. ($5 - $50)
The Intermediate "Best Value" Podcast Bundle
Microphone: As mentioned before, there are thousands of microphones to choose from. We suggest the Shure SM7B, an XLR-compatible dynamic mic. Alternatively, there is the Shure MV7 dynamic microphone, which has both USB and XLR outputs. ($250 - $350)
Mic stand: For the Shure SM7B, the Rode DS-1 desktop stand is an excellent option and compatible with this microphone. For those who prefer a boom-arm stand, the Rode PSA 1+ is our top choice. ($25 - $100)
Recording interface: If you need to use multiple microphones, the Focusrite Scarlett 4i4 connects to your computer via USB and has four inputs, two of which are dedicated microphone inputs. This model also has four outputs for individual headphone feeds. ($250)
Computer: Most people nowadays already own a computer. The only consideration is whether it's robust enough to deal with the software and large files. (Free - $300)
Software: Descript uses automated transcription and text-based editing tools to make editing quick and easy. It's a subscription-based software (SaaS) with different monthly prices available. There is a free version, but to make the most of their features, go with a paid plan. (Starts at $12/month)
Headphones: The Beyerdynamic DT 770 PRO are closed-back headphones that are comfortable and provide professional, first-rate sound. ($140)
Pop filter: The Nady MPF-6 6-Inch Clamp On pop filter is simple to use, durable, and easy to adjust. ($25)
The Expert Podcast Bundle
Microphone: The Electro-Voice RE20 is a hardy microphone with a strong cult following—and for good reason. As a microphone, it's world-class and has the price point to show it. It's a dynamic cardioid microphone with a heavy-duty internal pop filter.
Also, the AKG C414 Condenser mic is ideal for collecting high levels of audio detail. It's the highest-priced mic that we've featured at $1,000! ($450 - $1,000)
Mic stand: The K&M 210/9 Tripod Microphone Stand with Telescoping Boom is one of the most reliably sturdy and adjustable stands on the market today. ($100)
Headphones: Ask any dedicated podcaster what the top-tier headphones are, and most will tell you it's the Sennheiser HD 650 - Audiophile Hi-Res Open Back Dynamic Headphone. The price tag is eye-watering, but the sound quality you experience with these headphones is priceless. ($500)
Recording interface: The Rode Rodecaster Pro has four XLR inputs, bluetooth connection, four quarter-inch outputs for headphones, and eight programmable soundboard pads. ($500)
Digital recorder: While your computer is an excellent way to record your audio, having a piece of equipment that allows you to record and store audio files on the go is also handy. The Zoom H6 records up to six tracks onto an SD card. It also has a detachable microphone and four XLR microphone inputs and uses AA batteries instead of a dedicated power source. ($350)
Software: Hindenburg Journalist is a high-end choice for those with some solid editing experience—especially those who favor working with multiple audio tracks. They have excellent customer support, plus an active online community should you need assistance. Hindenburg has multiple pricing tiers and offers services as low as $12 per month. But if you are a business, opt-in for the Hindenburg PRO, from $200 per year. ($12 - $200)
Final Thoughts
Investing in the right podcast equipment can transform your audio quality and podcast. This can pay real dividends, especially if you want to grow your business through podcasting. But, while there is a temptation to buy whatever is top of the range at the time, it's worth identifying exactly what equipment is needed for a podcast.
Start with what's essential and what your budget can accommodate. Remember, you can always upgrade to higher-quality microphones, headphones, and software later on. And if this all sounds like too much hard work you can always enlist our podcast editing services and we'll take care of everything for you.