Contents
This post will teach you how to promote a podcast to grow your audience.
I walk you through the tools and strategies we use for our clients' shows with hundreds of thousands of downloads.
There are tons of podcast promotion hacks out there. Loads of blog posts titled '72 ways to get more podcast listeners'. But it's hard to know without lots of trial and error which are actually worth your time and where to start.
This guide is based on exact strategies we have tried and tested on our clients' podcasts. And it's structured in order of priority so that you can start at the beginning and work your way through.
Some of our clients have seen significant audience growth by using these strategies.
Whatever your starting point, these these podcast marketing strategies will help to grow your podcast audience.
The tactics listed here are all 100% legit. White hat. Above board. Tickety-boo. You may have read about some businesses out there doing some fairly shady things to boost shows up the Apple Podcast charts. There are plenty of freelancers on Upwork or Fivrr offering these kinds of services. But those things will get your show removed from the podcast directories like Apple Podcasts and that's bad. It's hard to grow a show that doesn't exist!
So I'm focussing here on only the proven and approved methods of amplifying your podcast. I've tried to keep it as actionable as possible so that you can work through it and refer back as you're progressing through your own campaign.
But don't worry, you don't have to remember all of this or write tons of notes. We've created a free cheatsheet that you can work through to make sure you've checked off all the promotional steps described here. It's prioritised from free and organic channels through to paid so you can start from the top and work through whatever fits into your budget or schedule.
Let's get it out of the way
Amazing content comes first.
If you're reading this post then it's possible you've already seen this written a hundred times before, but it must be repeated: No amount of promotion will grow a bad podcast.
Before beginning any of the strategies below, you need to be sure you have podcast-audience fit. Is that a thing? It is now :) That is, a clearly defined target audience, something unique and compelling to offer them, and a format and production that delivers loads of value.
If your current listeners aren't eagerly coming back for each new episode and sharing your show with their friends, then your new listeners won't either. Nailing this first is an essential part of growth.
Seriously, if you just do 10% of what's in this guide, and save the extra time and effort for making your content even better, your show will grow more in the long run.
But you didn't come here to read about that stuff, you came to find actionable tactics to increase your podcast download numbers. So from now on I'll assume your show is awesome and beloved by all who set ears on it.
Also consider show branding - your podcast title and artwork are important
Your podcast's title and artwork will have a big impact on their discoverability, their natural SEO performance, and the perception of the content and quality of your show before a prospective listener even hits play. We'll cover these areas fully in another post, but before you get started on promotion, spend some time to think about your show's branding and how you can help it stand out from the competition.
Do you have to do everything listed in this guide?
Not necessarily. Which strategies you choose to use depends on the time and budget you have available as well as on what's relevant.
When discussing podcast promotion with clients, we always take the time to identify what the goals of the campaign are first. Often, the aim is to reach a very specific listener demographic - where audience numbers are not the priority, but reaching a really targeted group is. This will result in a very different strategy to one guided by, say, sponsorship revenue. Where downloads = cash, cost effectively getting as many listeners as possible is what's needed.
Whatever your goals are, everything below can be applied effectively.
This guide is structured in order of priority. Start at the beginning and work your way through and stop when time or budget or need run out. If you get through everything that follows and you don't see your numbers go up, then something's wrong with your content. See above.
Or talk to us about how we can manage this process for you :)
The six main chapters of this guide
We'll split the process of growing a podcast up into these categories.
Click to jump straight to the relevant section if you're looking for something specific, but I recommend reading through it from start to finish.
Remember, you don't have to memorise everything in this post. We've put together a cheat sheet for you to follow as a free download.
Podcast distribution: a strong foundation for podcast growth
Or 'where should I list my podcast?'
It goes without saying that in order to be discovered and find new listeners, your show has to be discoverable. Make sure your podcast is listed in all the directories and players where listeners might find you.
I won't bore you will a full list here, but if you want all of the top directories, check out this guide to ensure you're in all the right places (though I would worry less about Google Play Music make sure you're in Google Podcasts instead). And if you're really into the long-tail, here's an even longer list, but I wouldn't worry about these unless you have lots of spare time on your hands as those listings are unlikely to make any material difference to your download numbers.
Upload your podcast to YouTube
You may also choose to publish your podcast to YouTube. There are arguments for and against doing so, but the fact is that more and more audio is being consumed on the platform as the service continues to push its music service.
And podcast hosts like Transistor make it easy to do.
If you do upload your podcast to YouTube, I'd recommend that you create a dedicated podcast channel. Use it to share behind-the-scenes and other bonus material in addition to your main episodes.
Or if you have an interview podcast format, take a leaf out of Joe Rogan and co's book and film your recordings to make a video version of your podcast. It makes for a much more complicated production process which is not easy to pull off well. But it's great for creating shorter clips and stackable (or even clickbait-y) content for social.
Smart speakers
Finally: can Alexa play your podcast? Despite huge adoption in Google Home, Amazon Alexa, and others, podcast consumption is still pretty low on smart speakers at this point.
Nevertheless, making an Alexa skill for your show, or educating your audience on using existing skills like AnyPod or Pocket Casts are great ways to give your listeners access on their smart devices.
Owned and organic channels (AKA free podcast promotion)
No matter what your budget is for growing your podcast, it's worth spending the time to get these elements right. They're largely free and will set the groundwork from which you can build your following.
Website
Optimising the user experience on your podcast website is a really important to marketing a podcast to new listeners.
It's the difference between someone finding your show and bouncing off to the next page, and them sticking around and subscribing. You want to remove as many barriers to someone listening to your show as possible. This is critical when you don't have a ton of money to spend on paid channels, but also super important when you're running ad campaigns to be sure you don't waste those valuable page visitors.
Just like a sales landing page, your podcast homepage is a sales funnel. Just instead of making a purchase, we want the site's visitors to convert into podcast subscribers. So you need to look at your page design with the same level of scrutiny as you would a marketing site for your product or service.
Mobile first
65% of podcast consumption happens on a mobile device. So having a mobile-first site design is a must if you want to capture these users effectively.
Great examples of mobile-first designs are Mozilla's IRL, Reply All (or any podcast from Gimlet), and Today in Focus and other Guardian podcasts.
Mozilla's IRL podcast mobile homepage
iTunes Smart App Banner
Talking of mobile first, something to keep in mind when you're designing your site's mobile experience is using an iTunes Smart App Banner.

They are easy to set up, and result in typical conversion rates of 10-15%. That's a really big deal, particularly when your site is attracting significant traffic. It's an easy win - here's how.

Simply add the following code into your site's

:

<meta name="apple-itunes-app" content="app-id=XXXXXXXXXX">

Where XXXXXXXXXX is your show's unique numerical ID.

A quick way to find your unique ID if you don't know it is by looking for your podcast on the Apple Podcast directory, like this:
How to find your Apple Podcasts id
Done.
What's more, you can make this banner link trackable using Apple's Performance Horizon. We'll get to that later in the measurement and attribution section of this guide.
Website template
So what should your podcast website look like? Here's a template for you.
Of course there are always exceptions, and this is not a one-size-fits-all design, but if you wondering how your podcast landing page should be laid out - go with this.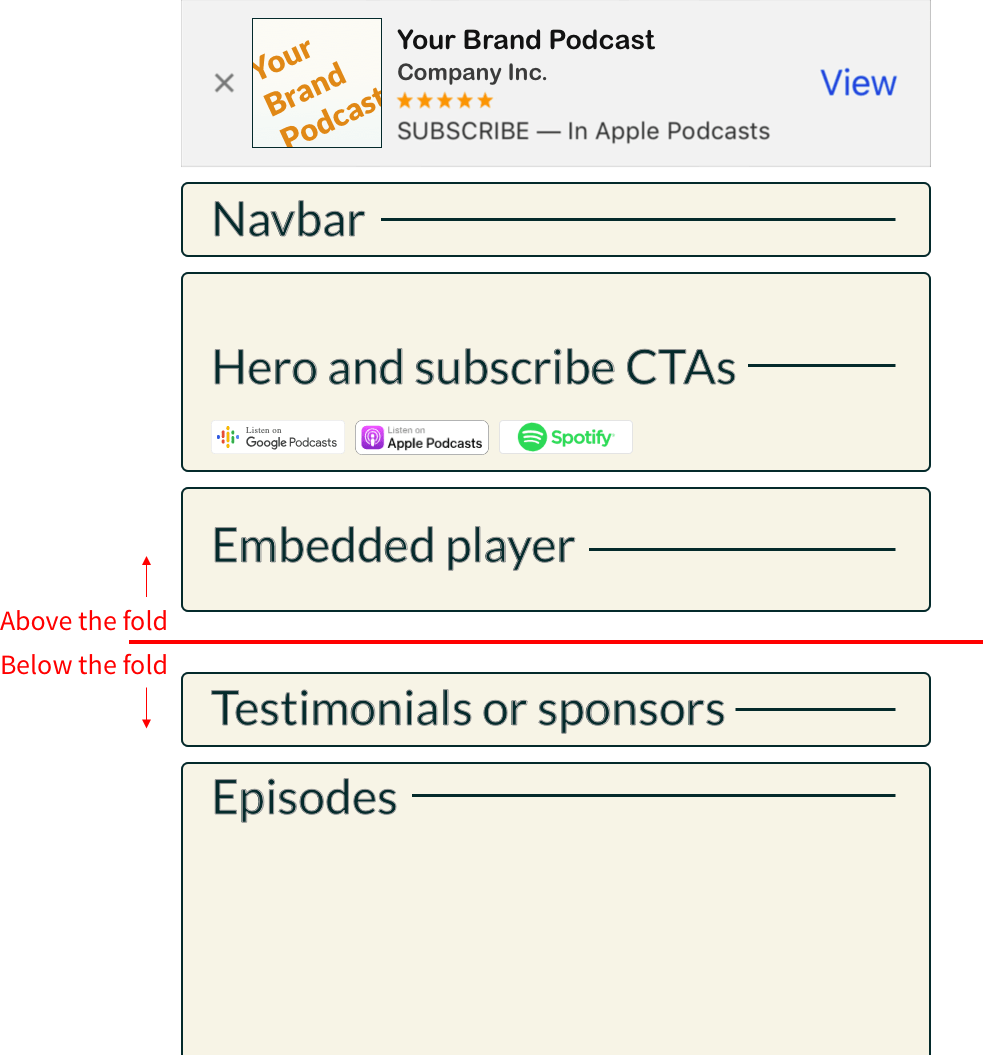 A podcast website template
Let's break it down:
Be sure to include the iTunes Smart App Banner. You'll only see this on mobile of course.
Navbar - likely consistent across your entire site. Includes your logo and menu items.
Hero and subscribe CTAs

This is super important and must be above the fold (ATF) on all devices. The point being you want to reduce as much friction between a visitor landing on your website and becoming a regular listener. At this point, since arriving on your podcast's website, the user is one click away from opening the podcast on their preferred platform. No scrolling necessary.
There's an entirely different conversation to be had around what CTA to use here. Subscribe, listen, follow? The debate rages on, so we'll come to that later.

Embedded player

Again, the priority is to have new visitors engage with your content as easily as possible. So having a player visible immediately will mean they are one click away from hearing your show.
This is preferably above the fold, but on mobile this is sometimes a squeeze once we've added in the subscribe calls to action, nav, and smart banner. But on desktop this should be simple enough to be made visible without scrolling.

Testimonials or sponsors

Social proof. Include brands or names that have appeared on the podcast, notable listener reviews, or list off your paying supporters if applicable.

Episodes

In the same way as a blog, we want to list all podcast episodes here as separate posts.
Important to remember that instead of simply having a text headline and 'read more' link, the embedded players should be visible for each episode right here on the podcast homepage. By doing this and removing the additional click needed for a user to listen to the episode they are looking for means you will lose less of those precious listeners!
When they do click the link, however, each episode then has its own page which houses guest photos, behind-the-scenes and other bonus content, as well as the show notes which are both a resource to your listeners and something that will boost your on page SEO over time. More on that in a second.

Footer

Not much to add here as your site-wide footer will be used in most cases. But I like to include social media links for those that want to engage further.
SEO and written content
Each episode will of course have its show notes. An opportunity for you to pitch your episode to prospective new listeners. Use hooks from the episode as teasers and encourage people to listen to get the full story. It's also a chance for you to point towards any resources mentioned in the episode if that's relevant.
But this written content is going to benefit your site from an SEO perspective, too. Especially when the episodes build up and your back-catalogue lengthens. So it's important to format your show notes correctly, and be smart in the way you target specific keywords around the topic of the episode. Just as you would with any of your written content.
But writing doesn't have to stop there. You can get a ton of benefit from SEO traffic if you take the time to repurpose your podcast episodes into long-form blog posts. We do this for our clients at Lower Street and it's a very efficient way of creating high-value blog posts for your brand's website.
Take a key theme from the episode, and expand on it in writing. Bringing in additional expert input - internally or externally - to add to your story. This makes for great bonus content for those listeners who want to go deeper, but will benefit your organic search traffic as well.
Other blog content ideas to consider for increased audience engagement, to bring out your brand's personality, or to boost search traffic:
Episode or season previews
Bonus interviews - additional guests or behind-the-scenes segments that don't make the final podcast cut
Guest posts from guests, contributors, or fans of the show
Use posts to resurface old episodes based on current events, holidays etc.
Should you transcribe your podcast? Enter Google audio search results.
Transcribing every episode is an additional cost and it could be argued that it doesn't add to the listener experience.
However, many people recommend offering transcripts of your episodes. This could be for accessibility reasons - many deaf visitors enjoy podcasts by reading transcripts. It's also suggested that transcripts are good for podcast SEO.
But that may no longer be the case.
Episode results in the Google Podcasts app are currently at 1% rollout, ramping up to 100% throughout the week. https://t.co/pr4xd4g76i

— Zack Reneau-Wedeen (@ZackRW) March 5, 2019
Google has announced that they are using their automated transcription to facilitate episode-level search in the Google Podcasts app. And indeed now regular Google searches on desktop will deliver relevant audio results if Google deems them to be the best answer to the user's query. This is massive news for podcasters, and I'll be covering the potential opportunities in another post soon. (And we certainly hope that this doesn't signal the onset of keyword stuffed audio content with creators attempting to game search!).
This potentially makes transcribing your podcast redundant.
Transcripts are not something we recommend for all podcast clients, so it's something you'll have to consider for your particular case.
If you do choose to transcribe, one great tool we recommend is Descript. Use this link to get 100 free minutes of transcribed audio.
Social media
The next and most obvious channel after your website is promoting your podcast on social media. It's a no-brainer to use these free outlets, but just posting a link to your latest episode on each isn't going to cut it. You'll need a strategy in place to make an impact - repurposing your podcast content for each platform to give it the best chance of reaching a wide audience. What works on LinkedIn probably won't work on reddit.
Pull quotes from your episode and highlight surprising, inspiring, thought provoking, or otherwise relevant snippets to use as bite-sized teasers to hook your followers.
You can format these as plain text quotes and open questions - which work well on LinkedIn to encourage a dialogue that increases a post's view count.
Creating images out of your quotes can increase engagement on Twitter, Facebook, and Instagram.
Where is your community most active? That could be in relevant subreddits, old school forums, Dischord or Slack communities. Get involved in conversations around the topic. Your episode covers and link to your episode as a resource. All obvious stuff, but the vast majority of podcasters aren't doing these things.
If you're active on YouTube, then a two minute promo is a great way to get your subscribers from one channel to another.
Talking of video…
Audiograms
Using video to promote your podcast can get 3x the engagement of static image posts on social. Instagram and LinkedIn are two platforms where this works particularly well. So creating engaging video snippets of your episodes is a great way to drive traffic to your podcast.
What's an audiogram? It's an animated waveform, visually representing your audio clip. When combined with a still image or video background and a transcript, it can catch a lot of attention and engagement in people's busy feeds.
It might sound like a lot of work, but luckily there are some tools out there to help you easily make animations from your audio clips.
One of those tools is Wavve. We asked Baird Hall, founder of Wavve, his advice for using audiograms on social:
Captions are a must when it comes to social video in 2019. Interview style podcasters are successfully leveraging these in a way to feature guest quotes and encourage guests to share the podcast clip to their networks on social media. Clips at or around 60 seconds seem to be performing the best.

-Baird Hall, founder of Wavve
Another great tool for creating audiograms is Headliner. I spoke to its founder Oliver Wellington who made these suggestions for optimising your social posts:
Captions are often helpful but you need to make sure you pick a bold style that is easily readable from a mobile device. I usually suggest people use the "Bold Description" caption style based on our tests.

Using an image with a moving waveform is easy, but you may see increased engagement if you use multiple images and video as well.

Featuring a person's face prominently in the video will usually also help with engagement.

Oliver Wellington, founder of Headliner
Services like Wavve and Headliner don't cost a lot (and even have free options) and can turn a short mp3 and transcript into something get much more attention.
Instagram stories
Instagram and podcasts haven't always been the best mix. But in fact more and more podcasters are leveraging their Instagram followings to grow their podcast audience.
One great way to drive traffic straight from Instagram to show us by sharing it from Spotify to your stories. Here's a quick and simple guide to doing that.
Overcast clip sharing
Another option for promoting clips of your podcast on social media is Overcast's new clip sharing feature.
The best thing about this tool is that it's not only you who can put up these clips. Your listeners can cut their favourite pieces from the podcasts they enjoy and share them with their connections. So think about how you can encourage your listeners to share the quotes from your podcast that resonate with them most.
Linking to your podcast on social media
This can be tricky. The person reading your carefully crafted video tweet could be on Android, so if it links to your show on Apple Podcasts, that's no good to them and you've wasted their precious click!
You want to make the journey from reading a message on social media (or anywhere else for that matter) to listening to your podcast as simple as possible. So it's important to have a way of linking to your show that works no matter what device the user is on, or whether they prefer to listen on Spotify, Overcast, Google Podcasts, PocketCasts, or anywhere else.
My advice used to be to send the social traffic to your podcast website. That way, you can track your traffic, control the user journey, and give them all the options they need to listen wherever they prefer. But now thanks to services like Plink, you can make one link that will open the show straight up in the user's preferred podcast app. Awesome.
And with smartURL, you can get even more detailed and tightly control where the traffic is sent. And again, if you combine this with a trackable links (getting to that later in this guide), you're in the best possible position to gauge attribution, which will inform your following social campaigns.
A third, and probably the best option, is Chartable SmartLinks. Not only does this offer the functionality of the two above services, but also allows you to track attribution - super important if you want to understand which promotion channels are working. We'll get into that later on in the measurement section.
Community
Fostering meaningful reltationships with your most loyal listeners - your true fans - is super important for long-term growth of your show.
So setting up a place for your audience to have an open dialogue with you and each other is a great way to encourage engagement, get feedback on the content you're creating, develop new content ideas, and provide value outside of the confines of your RSS feed.
Facebook groups, LinkedIn groups, Slack channels, or even good old forums are all great ways to give your listeners a platform to communicate with you and one another.
Calls ins and questions from audience
Seth Godin's podcast Akimbo is a great example of using listener interaction to increase engagement and directly respond to the thoughts and questions of his audience. Consider doing something similar.
Using a service like SpeakPipe, you can easily add this functionality to your website to make it easy for listeners to record and submit their questions to your show.
Leverage guests
One of the best ways to consistently find new listeners week after week is to piggyback on the audiences of the guests or contributors of your podcast. So once an episode is live, send an email to whoever was featured in it asking them to share it across their channels.
The more personalised you can make it, the more likely the guest will be to take action. Here's an example template we use here at Lower Street for our clients with interview style shows:
Hi _____,

A quick note to let you know that your episode with _____ about _____ has been published to the podcast feed today and our subscribers are listening right now!

We'd really appreciate it if you could share it with your network to help your interview reach as many listeners as possible.

To make it easy, here are the things you need:

Link to your episode: _____
A short video snippet we created for social: _____
Here's a suggested tweet: _____

Or if you just want to retweet us, here's a link to that: ______

Thanks again for being a part of the podcast, I think our listeners will get a ton of value from the episode. If you have any questions let me know.

Cheers,
_____

Whatever you send to the guests, just make their job of sharing it as easy as you possibly can. And if you don't see anything on their channels within a few days - follow up! People are busy, but this is free PR for your guests, so the majority of people will be happy to share.
Email newsletter
If someone has opted in to receive your content via email, chances are they'll be interested in hearing your podcast, too. So definitely take advantage of your list(s).
You can include mention of your podcast in your weekly newsletter, but we recommend sending a dedicated message about the show each week. It should highlight the value of the episode, how to listen, and of course have a call to action to subscribe on whichever platform they use. Use those smart links again to make things super simple.
Partnerships and cross-promotion
As marketers, we know that in order to find new customers we need to find out where our target audience already hangs out, and meet them there. The same goes for podcasting.
In this case, our target audience is podcast listeners interested in the subject matter that our podcast covers - self-identified audible learners. So one of the best places to influence and connect with them is through their ears on targeted, relevant podcasts.
There are ways to pay for this kind of exposure - which we'll get to later on - but there are ways to do this without spending a penny.
The first is through cross-promo partnerships with other podcasters. Find shows that serve a similar target audience to you, and reach out to them offering a cross-promotion - that is, recommending each other's podcast to your respective listenerships. This is something that the big podcast networks do all the time - making avid listeners aware of other great shows they might enjoy.
Given that the average podcast listener is subscribed to seven shows, there is no risk of losing your audience by pointing them towards more good content.
Cross-promotion could be as simple as pre-roll messages recommending each other's shows, or it could go as far as an episode swap where you both air an episode from the other show on your feed to give your audiences a taste of the content.
This is a super effective strategy that all podcasters should be doing more of!
Podcast guesting
Another way to get in front of other podcast audiences to grow awareness of your show, is to appear on relevant shows as a guest. The theory is exactly the same as the cross-promotion, but in this version you share your expertise with other audiences and point listeners back to your show. A certain percentage of them will check you out and subscribe to your show. Plus appearing on other podcasts is great PR for your business or personal brand.
Finding suitable podcasts and pitching yourself as a guest can be a challenge. So I sought the advice of expert Tom Schwab, CEO of Interview Valet who specialise in booking podcast appearances.
Bigger is not better, it's just bigger. Better is better. Success comes from targeting the right shows.

The algorithm we use focuses on 4 pillars:

1. The Podcast: Do they share a similar audience and do they have established shows (# of episodes) and a solid base of engaged listeners (Ratings and reviews)
2. The Website: Each appearance will give you back link, vital for Search Engine Optimization (SEO) and helping Google rank your show higher on searches.
3. The Reach: Do they promote the episode on social media and email. How big of a following do they have?
4. Experience with other guests: Do they have similar guests

Invite people back to your show by name. Too often people refer to "the podcast" or "my new show". You know what you mean but the listener and Google have no idea how to find you.

-Tom Schwab, CEO of Interview Valet
Use your superpower
The team at Pacific Content often talk about using your superpower to market your podcast and in many cases this is an overlooked channel that could make the biggest impact on your podcast's growth.
Is your product an web app with thousands of users? How can you include a mention of your podcast in your UI and get in front of a huge audience right away?
Are you a business with multiple physical locations? When Trader Joe's put up notices at all their stores to make their customers aware of their new podcast, they grew a large subscriber base very quickly.
Are you a business with multiple offices and hundreds - or thousands - of employees? Encourage all your employees to listen and subscribe to the show - that's a big audience straight off the bat. Can you have all your employees include a link to the show in their email signatures or send a link to their clients directly? That's a lot of reach there!
Get your sales people to mention it to prospects, or work with your partners and cross-promote the show with them.
Whatever your business is, identify your superpower and make the most of it! If you're making a podcast that represents your brand authentically - and does it well - then you should be shouting about it from the rooftops and using every channel you have available to you to promote it.
Request reviews
Until recently, a 5 star reviews won't affect your visibility in Apple Podcasts and other directories. But New and Noteworthy and What's Hot sections of the Apple Podcast directory are back. So once again, it's well worth asking your listeners for ratings and reviews.
Beyond that, they act as great social proof, and give you an opportunity to learn what your audience likes about your show so that you can do more of it - and fix things that inspire bad reviews (but I'm sure you won't get any of those ;) )
A simple call to action at the end of your show will work. Or for a greater impact, consider holding a competition with some giveaways to all, or some, of those that leave reviews. Everyone loves a bit of podcast swag.
PR and earned media
Traditional PR is a world of its own and not something I'm going to go into deeply here. But used properly, it can provide a huge boost to your podcast listener base.
There are a bunch of ways you can pitch your show to get various forms of PR exposure. They can include:
1. Relevant industry publications and newsletters
2. Traditional publications and news sites
3. Other podcasts (we covered this above)
4. Press releases and blog posts
5. Events and speaking opportunities
6. Influencer collaborations
7. Curator features within podcast apps
According to the respondents of the 2019 Jacobs Media Techsurvey, 17% of podcast discovery is driven by promotion on Apple Podcasts. With the other 78% being a mix of word-of-mouth and online discovery. So getting featured by Apple (and other curators) isn't the be-all and end-all, but it certainly can have a big impact on your podcast's reach.
Dan Misener reported on the effect of being featured in the Australian Apple Podcast storefront. It catapulted his show from around 100th position in the "Personal Journals" category to 3rd (in the Australian charts). That's a big leap.
But how do you get featured in Apple's Flowcase (what Apple call their featured spots at the top of their app)?
It's all about really great content. As with all the strategies in this guide, concentrate on making a show that delivers as much value to your listeners as possible before setting your mind to promotion. Curators on the big platforms like Spotify, Google Podcasts, Pocket Casts, Overcast, and so on, will only consider featuring content pitched to them that stands out from the sea of other shows out there.
Kris Lawson, producer and host of Building a Unicorn and Moonshot has commented on the impact being featured in Pocket Casts had on the growth of his shows. He has some advice for making a solid pitch for your podcast:
Every app has different types of shows which work best for their audience and they're likely to feature content that fits with that crowd. Also if your show is branded well with great artwork that stands out it's much more likely to be in the running for a feature.
-Kris Lawson, host of Building a Unicorn
Dan Misener recommends that you think about the following when looking to pitch your show out to other curators and aggregators:
Is my show or episode actually worth promoting? What makes it notable, timely, or special? To whom?
What's the hook?
How can I demonstrate that I'm invested in making my show a success on this platform?
Visually, how will my show stand out from the rest? Can I create custom artwork doesn't simply repurpose my existing show artwork?
-Dan Misener, producer of Grownups Read Things They Wrote as Kids and Head of Audience Development, Pacific Content
8. 'Best of' roundup blog posts - a great podcast SEO tip
A quick Google search will show you that there are likely a number of 'Top X podcasts' for whatever niche subject your podcast covers.
Reach out and pitch your show to be included in those blog posts. It's an easy win and is also a great bit of link building for SEO.
Paid podcast promotion
Okay, so assuming you've worked through all of the unpaid and organic channels, and you have some budget to play with to proactively promote your podcast, let's move onto some of the most effective paid channels.
Podcast app display ads
Podcast players like Overcast, Stitcher, and others, offer the opportunity to place banner ads within their apps.
Overcast in-app display ads is one of the best channels we've tested on a dollar per subscriber basis.
This is a great and effective channel for two big reasons:
Users are already in podcast-listening mode and looking for new content. You've got the ideal audience at the right place and time.
Because they're already in their preferred listening app, the friction to hitting the subscribe button and becoming a regular listener is as low as it can be.
On a dollar per subscriber basis, Overcast ads have performed extremely well for us. The only downside is that once you find a creative that works, you can't scale it up. There is only a finite inventory to buy and a finite audience to reach with it. Nevertheless, it's well worth doing.
How to book ads for your podcast in Overcast.
Pricing varies depending on the category you choose and the slots that are available at any given time. Categories like Business can fill up fast and carry a much higher rate, so think carefully about the best category for your show and any related categories that you think your target listeners will be searching.
And be sure to A/B test your ad creative. In addition to your podcast artwork, you have a very limited set to characters to work with. So use them wisely and test what converts best in different categories.
Pro tip: don't waste characters on superfluous words like 'podcast' or 'show' - just focus on communicating the value of your podcast succinctly.
Listen Notes
Again, thinking about meeting podcast listeners where they are, podcast search engine Listen Notes is a great platform for podcast discovery. So it's perfectly suited for buying banner ads to promote your podcast to users actively seeking new content.
Founder Wenbin Fang offers site-wide banner ads. He warns that it's not a great fit if you're looking for driving short-term subscriptions, but as a long-term branding strategy, it's a great option to look at. He offered this advice for those thinking about advertising on the platform when I reached out to him:
Banner ads on ListenNotes.com is not much different from banner ads on other websites in general.

Website banner ads are not effective for call to action / transactional things, e.g., see the ad and immediately click & buy things, or see the ad and immediately click & subscribe to a podcast. Nowadays, it's rare for people to see website banner ads and joyfully click the ad and do something there. I don't remember when was the last time I click or mis-click website banner ads :)

That said, if podcasts hope to drive subscriptions in a short period of time, then website banner ads may not be a good fit. Mobile ads (e.g., in podcast apps, or facebook/instagram feed ads) could be way more effective than website banner ads.

However, website banner ads could be useful for branding, if podcasts are willing to do banner ads for a long period of time (e.g., months). The purpose here is not to ask people to click. Instead, it is to leave repetitive impressions — kind of like TV ads.

If a podcast want to buy one and only one ad, then it shouldn't be website banner ad. But if a podcast wants to advertise in different channels, then each channel could serve different purpose, e.g., mobile ad to drive subscription short term, and website banner ad to do branding long term — such podcasts turn to be big shows that try to reach diverse audience.

-Wenbin Fang, Founder Listen Notes
Paid podcast promotion on social media
Another option to advertise your podcast is through ad campaigns on Facebook, Twitter, LinkedIn etc.
There are differences between the various platforms and I'll go through specific approaches to each in another post. But there are some general points to note about using paid social traffic to increase your podcast listeners.
Pros
You can be super targeted in who sees/hears your ad.
Using Facebook ads allows you to build lookalike audiences based on those that interact with your content best - this can be valuable outside of just audience growth.
It's cost effective and can scale depending on your budget.
Cons
The users you're targeting with your ads aren't explicitly on the look out for long form audio content, so you have two things to sell: first, the idea of listening to a podcast at all, and second, listening to your show specifically.
Users on social media are in bite-size content mode, not deep engagement or learning mode - context is important.
Unless you're using SmartLinks, once you hand your user off to the listening platform of their choice - Apple Podcasts, Spotify, or whatever else - you can no longer track them. This can make attribution tricky.
What we have seen is that Facebook, Instagram, Snapchat, and Twitter ads can have a great impact on your listener numbers in the short term - it's a shortcut to as much traffic as you can afford to buy. But that once you turn these traffic sources off, the download numbers fall off a cliff. This means that a really small percentage of those that click on your ad and listen to an episode of the show actually end up subscribing and coming back for more. Again, this is largely down to the context they are in at the time of being served the ad.
Something to consider instead would be creating an email newsletter devoted to the podcast and sending social traffic to that instead, with the goal of converting clicks into email subscribers - something that can be tracked and optimised much more accurately. Then you can use that list to promote the podcast.
But some things to keep in mind if you are going to use paid social media advertising to promote your podcast:
Use a Chartable SmarLinks or direct traffic to a landing page on your website. If you send traffic directly to Apple Podcasts, for example, you'll have no way of tracking who actually listened! With SmartLinks (we'll discuss this later on) you'll be able to measure where your traffic is coming from and who's listening. If you direct traffic to your website, you can carefully control the user experience, build your Facebook pixel data for retargeting and lookalike audience building and even better tracking.
Experiment with your ad creatives - still images, audiograms, other video content - to see what resonates best with your audience. We have found, slightly counter-intuitively that audiograms perform a bit worse in terms of number of clicks, but that those that do click the link translate to more downloads. Test those assumptions!
Trial a few channels - Twitter, Facebook, Instagram etc. - and see which perform best for your show.
Google ads
This is a preferred form of PPC advertising for us as it can target much more intent-based traffic. By carefully selecting targeted keywords (for example: 'best cryptocurrency podcast', or 'cryptocurrency resources' ) you can put together a campaign that reaches potential listeners as they are actively seeking information on your chosen subject.
Again, it's worth sending this traffic to a dedicated landing page that can be optimised for funnelling users towards subscribing to your show.
Podcast sponsorships
As I've mentioned already when discussing cross-promotions, exposing your show to existing podcast audiences is one of the best ways to find new listeners. So when you are just starting out with a minimal audience of your own - or for whatever reason a cross-promotion partnership doesn't make sense - sponsoring a podcast is the next best thing.
You can work with an agency to manage this process, or simply create a short-list of suitable shows, and manage the deals yourself. If you don't know where to start, sites like AdvertiseCast can be helpful to find suitable podcasts and book your sponsorships.
We find that cross promoting podcasts on similar typed shows is a great and effective marketing strategy for podcasters to grow their podcast audiences. It simply works as they're already podcast listeners and asking them to listen to your show is an easy sell. The key is making the call-to-action really easy which could be as simple as — just search for (show name) in your favorite podcast player.

-Trevr Smithlin, Founder of AdvertiseCast
Once you've booked your ad slots, it's important to spend some time speaking with the show's host to communicate clearly how the ad should sound.
As with cross-promotions, the spots that tend to perform best are host-read endorsements for your podcast. So while a host will have to honest about the fact that your message has been paid for, you can work with them to come up with a script sounds as natural and authentic as possible.
Ultimately, show producers know their audiences better than anyone else, so we try to encourage them to script something that they are comfortable with, and then make minor tweaks and suggestions to ensure our clients' shows come across as intended.
Programmatic audio advertising
If you don't have the time to find shows to sponsor and secure the sponsorship deals (it can be a lot of work) or you want to do podcast ads at scale, then programmatic is another way to get in front of existing podcast audiences to grow your show.
Platforms like Acast and AdsWizz will allow you to manage highly targeted ad campaigns across a wide range of podcasts and networks, allocating your spend in much the same way as you would with PPC.
The immediate downside to programmatic is that your 30s ads will not be host-read. Therefore a really well written, produced, and targeted creative is essential if you're going to get a good response. That skip button is never far away, so make sure you grab attention early on and offer something super relevant to the audience you're targeting. A spray and pray approach won't get you far here.
It's also not cheap. Because engagement is lower than with host read, you need to hit bigger numbers to have a significant impact.
On the plus side, however, programmatic gives you the opportunity to scale a campaign to huge numbers of podcast listeners in any geography or niche. If you have sufficient budget to invest, it can be an excellent channel.
Spotify Ad Studio - not yet
Sadly, Spotify Ad Studio doesn't yet offer the same functionality to podcasters as it does to musicians on the platform. At least not that I know of.
At the moment, musicians can use Spotify ads to directly target fans of a particular artist and point those fans towards their own tracks or albums right within the platform. This is something I'd love to test for podcasts, but for right now it's not an option.
For example, if you had an entrepreneurship podcast, you could target listeners of the Tim Ferris podcast with your 30s ad, and within a single click those listeners could be directed to your show. But not yet.
You could set up an ad that directs traffic to your SmartLinks (which would loop the user out of Spotify and then back in), but I haven't tried that yet so can't recommend it. If you've given it a go - let me know! :)
Other sponsorships - newsletters, communities, Slack groups
Other great channels to look at for your podcast promotion plan are online communities. Those could be email newsletters, Facebook or LinkedIn groups, Slack channels etc. We haven't seen these convert quite as well as other channels, but in terms of brand awareness and the long-term view of embedding yourself in your chosen community, it's a great path to take.
Real-world advertising
That non-digital, tangible stuff still works, too ;)
Conferences and events
Not only can conferences be a great place to meet a bunch of people in your industry and corner them for an interview for your show (!), but it's the perfect place to find new listeners.
Include a link on your business cards, add it to your slide deck if you're presenting, and at have people get their phones out and subscribe right then and there at networking events. Despite being a digital medium, you can't beat face-to-face interaction for inspiring action.
Physical mailers and print
Another analogue classic, and not easily scalable without a sizeable budget. But if you are targeting a very specific group of people, physical mailers can be a great tactic to use.
For example, our client, Softcat sent out branded cassette tapes with QR codes linking to the podcast to their key client accounts. It converted extremely well!
Outdoor
Brisbane, Australia, last week

Looking nice, @case_file pic.twitter.com/QNeg1vdolB

— Podnews podcasting news (@Podnews) May 5, 2019
For those with sufficient budget and content suitable for a broad audience, outdoor advertising is something to consider.
And it's something the wider podcasting community will thank you for - it's this kind of mass-market advertising that helps to grow the podcast pie and convert more people into regular listeners. It's the kind of fuel that is growing the podcasting industry in general - which is good for all podcasters.
Lots to remember? We've got you covered
Podcast analytics, data, and how to measure your audience
So how do you know which of your podcast marketing efforts are working? Attribution is an important part of any campaign. And historically, this has been difficult in podcasting. Luckily we now have a few tools that we can combine to learn what content is resonating with audiences and which strategies are delivering results.
Analytics
Your podcast hosting platform
The obvious place to start. Each podcast host manages download data slightly differently, but you want to look for a host that offers IAB compliance.
I won't go into great detail on this here, because your host's analytics are fairly self-explanatory. But I do love that Transitor, the podcast hosting provider that we recommend, has a section in their analytics dashboard for estimated number of subscribers - a handy feature that I haven't seen elsewhere.
I asked Justin Jackon, co-founder of Transistor how they calculate this subscriber estimate:
We average out the first 24 hours of downloads of your last 3 episodes to calculate an estimated subscriber count. The graph is an estimated count over time.

Justin Jackson, co-founder of Transistor
(Note: Transistor has not yet been IAB 2.0 approved, but they're working on it, so you can expect that in the near future).
Podcast Connect
Apple's Podcast Connect is a great place to start to learn about how listeners are engaging with your content.
In the Podcast Analytics section, you have access to episode-level consumption data. This only provides information on users who listen on iOS using the Apple Podcasts app, but still, this is great insight into what content is resonating best with your audience.
In the Episodes section, you can view the number of downloads you have for each episode, along with the average consumption percentage. If you drill down into specific epsiodes, you're shown a graph of the consumption percentage over time. This allows you to see exactly where your listeners drop off.
An episode-specific view of Podcast Connect consumption data
Does a drop-off coincide with a particular segement of your show? This graph can give you a look into which parts of your show causes listeners to skip or stop listening entirely.
Spotify data
More detail can be found in your Spotify catalogue.
In the same way as Podcast Connect, you have an opportunity to see how many Spotify subscribers your show has as well as the consumption data graph. But additionally, you can see how many streams each episode has had (measured as plays of 60 seconds or more) and how many unique listeners those streams came from (which is an interesting way to see how many of your listners are consuming more than one episode). You can also see how many starts each episode receives (measured as plays of 0-60 seconds).
There's some additional demographic information available through Spotify that's also really helpful. Beyond location, you can see the age and gender of your listeners. It's basic, but much more you get from other podcast platforms.
Spotify's podcast consumption data can provide insight into your audience that's hard to see elsewhere
All this data can be viewed and aggregated using Chartable
With a Chartable account, you can combine your SmartLinks data and download data from all the sources listed above. Plus you can track your show's position in the iTunes charts.
With all this information combined, you can measure what content is resonating best with your audience, what marketing channels are converting, and what effect that's having on your show's ranking.
Alright, it's 11pm on a Sunday and I didn't quite get this section written in time for monday morning. Too many nappy changes to do :) If you're reading this far, I'll fix this section up in the morning. Come back, or enter your email below and I'll let you know when it's done.
How can we help?
At Lower Street we help our clients grow their audiences with our podcast promotion service using some or all of the tools and strategies discussed here.
But it's important to note that podcast audience growth is not always the appropriate data point by which to measure a show's success. ROI looks different in each case depending on your unique business goals. More listeners are great, but who is listening, why are they listening, what are they getting from the experience and what action are they taking as a result?
These are all important questions that we discuss with clients before they dive into spending lots of money on marketing a podcast.
If you'd like to learn more about how we can help, or just want to discuss how your business can best use podcasting to meet your marketing and brand goals, get in touch. I'd love to chat.
Over to you
So there we have it - I hope this has given you some fresh ideas to promote your show and grow your podcast audience.
If you try any of the strategies described in this post, I'd love to hear from you. How did it go? What worked? What didn't? What brought unexpected results?
If you have any questions on anything here please reach out. Did I miss something? Did I get something wrong? Let me know!
You can find me on Twitter @podcastharry or on LinkedIn or send us an email.