Case Studies
How Rankings.io is getting 10x ROI from Podcasts with Lower Street
10x ROI | >$1MM revenue generated in 18 months | 22,556 monthly downloads
Last updated on: 20-10-2022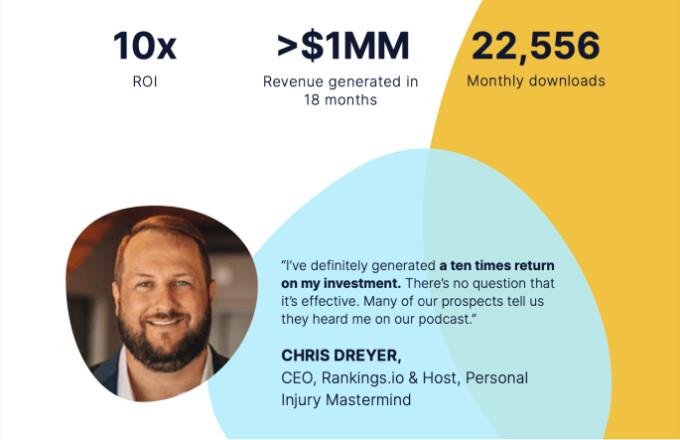 Highlights

Challenges
Shows weren't drawing recognition or new clients

Other podcast agencies couldn't deliver the vision
Solution
A teardown audit to deliver a customized strategy

Interview prep that uncovers more impactful stories

Production quality that rivals NPR

Strategic promotions that accelerate growth
Results
10x ROI

$1MM in new client revenue generated in 18 months

22,556 downloads per month
I've definitely generated a ten times return on my investment. There's no question that it's effective. Many of our prospects tell us they heard me on our podcast.

Chris Dreyer
Challenges
As a serial podcast listener, Chris Dreyer, CEO of Rankings.io and founder of the Personal Injury Marketing and Management (PIMM) podcast knew the power of a high-quality show. Rankings.io is the SEO Agency of Choice for Personal Injury Lawyers.
I knew how effective it could be. A podcast is like giving a keynote speech every week without even having to leave the house.
The previous podcast companies he worked with to produce his show (then called 'The Rankings Podcast') did not meet his expectations for quality and lacked the leverage he desired for distribution. Chris sought to create a phenomenal show that could reach thousands of potential buyers and grow his business.
Solution
Chris turned to Lower Street after listening to some of the shows we produced - he was sold on the caliber of our work. He immediately saw a significant uptick in production and reach when he started working with us, and the difference was obvious right away.
Everything was focused on quality. From the sound of the music to the cover art, the voice-overs, research of the guests, and the audio engineering; all these little nuances and granular things they recommended made the show exponentially better.

Chris Dreyer
The Rankings Podcast was rebranded to focus on the goals of its audience and thus was born PIMM: a podcast where elite personal injury attorneys and leading edge marketers give exclusive access to growth strategies for law firms.
At its inception, it was The Rankings Podcast. But we came to the realization that the show needed to rebrand to focus on my audience and make it about them, not me.

Chris Dreyer
Unlike other podcast production companies Chris previously worked with, Lower Street provided in-depth research on each topic and guest coming onto the show, and offered a customized prep sheet and set of questions for each interview, creating a unique and engaging content flow for each episode.
With increased quality and the help of Lower Street, Chris now interviews high profile guests including top personal injury attorneys and individuals who make an impact in their industry, including prominent attorneys such as Darryl Isaacs and Joe Fried, or entrepreneurial leaders like Seth Godin.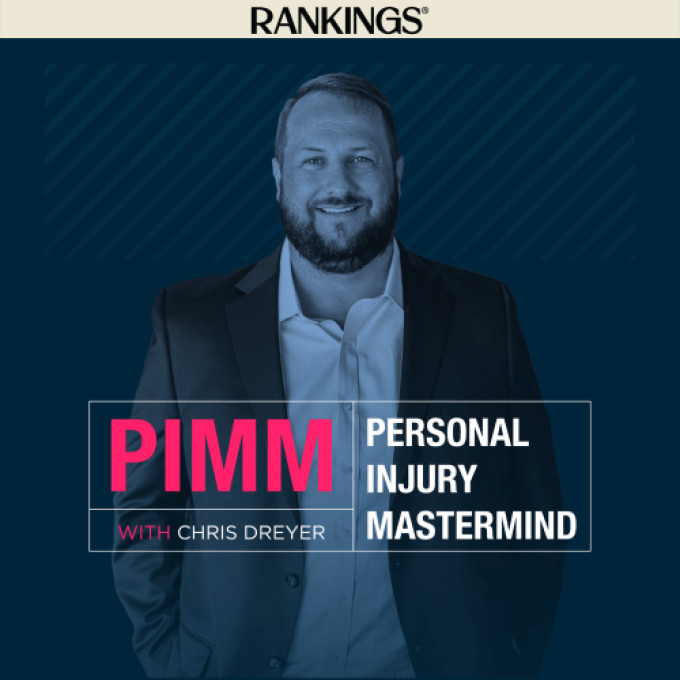 Off the back of the success of PIMM, Chris and his team decided to double down and create a second podcast focussed on a specific subset of their audience. LawHer was launched to serve the community of female attorneys and as a result, Rankings' COO, host of LawHer, was given multiple keynote speaking opportunities at some of the country's top legal industry conferences. The podcasts also provided an opportunity to serve and represent the female law community in a male-dominated industry.
There were a lot of male-oriented, male-dominated podcasts in our space, and we wanted to serve and represent the female law community. We've seen tremendous results from both podcasts, not only from a lead-generation and social media perspective, but also in terms of education for our industry.

Chris Dreyer
Results
10x ROI and $1MM revenue in just 18 months
With our support, PIMM generated over $1MM in new client revenue in just 18 months and achieved more than 10x ROI. The two podcasts gained 22,556 monthly downloads and provided significant results from both a lead-generation and social media perspective.
A large portion of the incremental leads came from social media where Chris and his team are using Lower Street produced video clips. The distribution of the podcast and the opportunities it presented on social media were keys to the business growth Rankings.io experienced.
Get podcast ROI like Chris by making the best show on the internet.
If you want to create a phenomenal podcast that delivers real incremental revenue, contact us today. We provide expertise in every aspect of podcast creation, from strategy and development to audio engineering, production, and audience growth, creating unique and high-quality shows that can reach and engage your target audience.