Blog
What Is a Branded Podcast & Why Should You Create One?
Branded podcasts give businesses a voice and are the perfect tool for driving awareness and authenticity
Last updated on: 08-10-2021
Podcasts are flipping the script for content marketing departments across the board. Thousands of businesses have begun to weave podcasts into their outreach strategies. Either by sponsoring podcasts with a similar or target audience, or by generating their own content as a "branded podcast."
Podcast consumption, in general, is on the rise, and branded podcasts are no different. Intimate and immersive by nature, they offer a rare opportunity for brands to connect with consumers without being too invasive.
 "Podcasts are giving brands the unique opportunity to speak to audiences in a space like no other. It's an intimate environment with more than 90% of listening taking place in our headphones," 
- Jack Preston, director of Acast Creative. 
With its advantages of low barrier to entry and potentially high ROI, especially in customer and client engagement, podcasting is an easy way for companies to share their brand messages.  
Still not convinced? As more brands begin to venture down this marketing rabbit hole, we're starting to see an influx of tangible data to back up our claims. For example, according to the BBC, businesses that invest in a branded podcast can see a considerable uplift in engagement, brand awareness (89%), brand favorability (24%), and even purchase intent (14%) compared to other channels like video or blogging. "The past couple of years have seen the world's biggest brands invest heavily into podcasting, and podcasts occupy a unique position in the media landscape," explains Jack Preston.
So many advertisers, creators, and brands have already proven the benefits of podcasting, which means if you don't have a branded podcast, your competitors probably already do. 
What is a Branded Podcast?
In 2018, Fast Company referred to branded podcasts as "the ads people actually want to listen to." 
BBC Global News suggests branded or corporate podcasts are a highly effective way to reach consumers. But, unlike other channels, they're not precisely advertising or promotional.
What we're seeing is that the top branded podcasts still drive from the heart of what makes a good quality podcast: great storytelling, fascinating conversations, and valuable content people want to listen to.
"They see incredibly high engagement rates - 85% completion rates which dwarf what we see in social and video. You have, then, the opportunity to develop real relationships with customers, prospects, and your industry at scale."

– Harry Morton, founder at Lower Street.
However, some of the most successful branded podcasts don't mention their products or services at all. Take Pacific Content's podcast Trailblazers with Walter Isaacson as an example. Or even the branded shows Lower Street produces, such as HPE's award-winning Technology Untangled and Standford's Grit & Growth. None of whom resort to overwhelming consumers with advertisements, which can often have an opposite effect. Instead, they achieve a degree of exposure in a more restrained way. The shows that strive to inform and entertain their listeners have increased their authoritative presence and overall brand recall and awareness. 
"Don't think of it as a sales channel, instead use it as a way to spend time providing value to your community" - Harry Morton
But what if you did want to advertise your brand? According to Steve Pratt, the co-founder of Pacific Content, brand mentions aren't seen as an intrusion- as long as the mention is presented authentically and organically.
The Three Types of Branded Podcasts
Contrary to popular belief, branded podcasts can take on an ad hoc formula and leave a lot of room for creativity and outside-the-box thinking. But, of course, it all depends on the needs and direction a business wants to take when it comes to communicating its messaging.
However, podcast marketing expert Gaia Passamonti has identified three types of branded podcasts that can offer a starting point for businesses.
Journalistic: Uses recordings and structures either in a "flash" format like news or can be in-depth like investigative reporting.

Educational: Have a more instructional or informational approach. Usually, they include tutorials, discussions of their products, the technical side of a brand, or the industry as a whole.

Editorial or narrative: Uses different formats and editing methods for entertainment, involvement, and amusement. 
Or, you can completely throw the rule book out the window and take a leaf out of GE's podcasting guide to the galaxy instead. By exclusively utilizing storytelling techniques, GE's eight-episode, fictional sci-fi thriller podcast "The Message" harks back to the radio dramas of the '40s. The aim- to tell a gripping story that directly pulls from GE's real-life work in science and technology. 
"The Message" co-produced by Panoply and GE Podcast Theater. 
While it was a bold move for one of the globe's most prominent energy organizations to make, the results went beyond anything they could have imagined. By the season's end, they had amassed millions of downloads, a shelf-full of industry awards, became the #1 podcast in the US and had a flood of brand recognition that had listeners ravenous for a second season.

GE's head of media innovation, Alexa Christon, explained,
"What we learned is that while the space is flooded with content, there still isn't a defined space for this fictional, dramatic radio-style storytelling, and people are really enjoying it." 
The basic principle of branded content, which too many marketers often ignore–it's about the quality of the content. Only your brand can bring that special something to the table and drive the reaction you're longing for. Not how often you can pepper your listeners with a brand mention.
"People are making a very conscious choice–you have to download a podcast, you have to subscribe and listen, and creating that relationship is something that brands in general covet. How do you create that relationship?"
Creating a branded podcast
Like other marketing efforts, you have to begin by identifying how your podcast will align with your business' marketing objectives. These objectives can circle towards improving brand awareness, raising brand engagement, increasing website or blog traffic, generating thought-leadership, or even straight-up revenue generation. Given that so many moving parts are involved in podcast ideation, production, and distribution, this is all easier said than done.
So, here are some things to consider when creating a branded podcast.
What's Your Brand's Goal?
Measuring a branded podcast should be done very differently than the usual entertainment-style or informal type podcasts. For a podcast to grow your business, it needs to have a specific intent and focus to create a positive influence. So, what does that mean for branded shows?  Measuring subscriptions, downloads, and Apple Podcast charts positions aren't as crucial. The ideal is to have a podcast support your overall marketing purpose to grow your business- not your ego.
A business podcast's key performance indicators (KPIs) often come through over a more extended period than most marketing strategies. 
So, instead of just data and metrics, what are your goals that will ultimately help drive the business forward?
Brand Awareness: Do you want your podcast to have a broader impact on social media or within your industry? 

Engagement: Would you like your podcast to work as a tool to gain vital feedback?

Authority:  Are you looking to become a thought leader within your industry? Do you want to become the go-to podcast that answers the questions you know your audience is already asking?

Earned Media: Have you got any ideal shows you'd like to be on. Or vice versa- who would you like to be on your show that you know will generate value for your listeners?
These are types of goals that are worthwhile for a branded podcast, that's why we recommend you starting with the very end in mind. Say you want to be known as an authority within your industry. Just the simple act of being consistent can also show your brand's trustworthiness and consistency of service. Therefore, your goal would be to map out a content release strategy that you know you can stick to.
Once you've solidified your specific goals, unpack them into milestones. Make sure your goals are SMART (specific, measurable, attainable, realistic, and time-based). 
Costs Associated With a Podcast
If you're looking to get the signoff from accounts for your podcast marketing budget, you'll need to have some idea of the costs associated with creating a branded podcast series. 
Although you could use your iPhone and some simple free editing software to create a podcast, we recommend that you don't. First, you have to remember that this podcast represents your brand, and therefore should strive to have at least a whiff of quality about it. 
Listeners will forgive many things, but consistently lousy audio quality is not one of them. 
But you don't have to bring out the big bucks to achieve decent sound. Podcasting hardware and software are typically much more affordable than, say, video equipment. 
To start, you will need to invest in:
A microphone(s)

Microphone stand

Headphones

Mixer

Editing software 

Possibly some acoustics barrier or sound proofing
For this kind of setup, you can expect to pay $100+. But, for a professional-grade setup prices can reach upwards of $750.
Another consideration is how much you're prepared to spend on a hosting site. Pricing for podcast hosting ranges from $5/month to $50/month and varies depending on which company you go with, how many episodes you produce, and even how many downloads you get. To add a small spanner in the works, different companies base pricing on Megabytes (MB), hours, downloads, or bandwidth, so be sure to check before you commit.
Establish your ideal audience
One of the biggest mistakes a new podcaster can make is not identifying their ideal listener. The wrong approach is barreling in with a gung-ho attitude and attempting to reach "anyone and everyone" all at once. But if you're striving to build long term relationships that could ultimately convert into business, you have to get clear on who you want to be speaking to. 
 Know your audience. If you don't, you'll make decisions regarding your content purely based on what you want and not necessarily what they need. Like a customer persona, an ideal listener (also known as an avatar) identifies the one person who represents your listeners. The holy grail of people you want on your side. 
Give them a name, age, occupation, family. Age, gender, location, industry and occupation, interests, hobbies, lifestyle, social causes, pain points, fears, and even budget! 
If your overall goal is brand elevation, and your target demographic is female CEOs aged 35- 45, creating a persona will maneuver you towards what your demographic cares about. Using this as a guide, you'll be able to develop your podcast series and content around a subject that's hyper-focused towards their interests. 
Focus on their needs rather than your ambitions. 
Identify your competitors
Competitive research is the backbone of any strong marketing strategy. After all, if you can't identify your competitors and their marketing tactics, you may struggle to differentiate yourself and your podcast from other shows.
Finding your competitors doesn't have to be complicated or exhausting, though. Start by differentiating between your direct and indirect competition.
Direct competition are the brands that sell or market the same products (or podcast) as your business. 
Indirect competition refers to companies that don't sell or market the same products but compete digitally with your business and podcast. For example, they may publish the same type of content as you and compete for the same keywords. In a nutshell, they're competing for your customers' attention.
Programs like Rephonic are ideal for keeping an eye on your competitors. By using their "Audience Graph," you can search for any podcast and view all the "Listeners Also Subscribed To" data displayed in an interactive 3D map.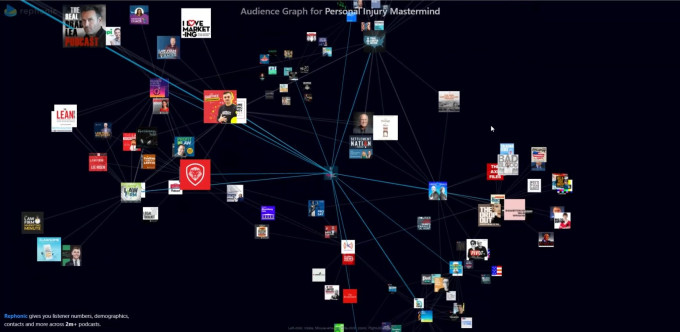 A tool like Rephonic provides you with an overview of the podcasts your target audience is already listening to and offers you an opportunity to do some quality market research to help direct your podcast's content.
Find your format
The term "format" refers to how content and material within a podcast episode is arranged. It acts as an invisible framework on which your content hangs from. 
For example, you can format a technology-related show in several different ways, either by showcasing multiple interviews separated by voice overs and music clips. Or, you can feature an entire interview flanked by music clips on either side. Both are tech shows, but they are formatted differently.
How you arrange those audio-puzzle pieces is the "format" of your show.
Here are some of the top formats:
Solo (Monologue) Podcast Format

Co-hosted

Live Shows

Interview Q&A

Documentary

Fictional or Radio Play (Storytelling) Podcast Format

Scripted NarrativeVideo Podcast
How long should you make your podcast? Deciding on the duration of your podcast episode can help you determine the kind of format you want to be working within. Branded podcast episodes range from 15 minutes to 40 minutes. There are no actual rules about length in podcasts (just look at Joe Rogan's 2+ hour track record), and that's one of the great aspects of this medium.
Decide on your branding
Podcasters are strongly inclined to focus solely on their audio. But, whether we like it or not, first impressions count, and branding plays a big part in bringing listeners towards your podcast. 
So, what are the non-audio elements that you need to consider? 
Strong, visually powerful, and engaging podcast branding is a must. 

Color, fonts, written content, and tone of voice are essential to get right. 
Research other podcaster's cover art by browsing the front pages of Apple Podcasts, Stitcher, Spotify, and Castbox. Sometimes it helps to look at your competitors and other shows in your category and see what they're doing. 
Dan Miesner at Pacific Content generated a "Podcast Cover Art Rainbow" that is comprised of 11,697 individual pieces of podcast artwork. Dan wanted to give an overview of the most popular podcast color schemes. 
"Podcasting is crowded, and it's getting more crowded by the day. With 700,000+ shows out there, it's never been more important to stand out from the crowd." 
Do not attempt perfection
Aim for progress, not perfection. Abundant creativity has its benefits when it comes to developing a podcast that stands out. But with that wealth of creativity comes the inevitable struggles of perfectionism.
It can be very easy for someone to get caught up in formulating a new podcast while obsessing over the fine details of audio editing, cover art design, or the branding and style of the podcast as a whole. Details do matter- but they only matter to the extent that they will be noticed when marketing to an audience.
Even the most seasoned podcasters out there will tell you that they are still learning as they go. So don't get bogged down by "analysis paralysis," aka overthinking how you're going to execute something but end up obsessing over the minutia so nothing gets started. Remember, you can always mix up your format. You can republish a piece of cover art. Updating past written content take minutes and listeners will forgive mistakes - especially at the beginning.
The best podcasts are the ones that offer great content and a connection that listeners will value. Focus on the details consumers will appreciate, and you'll be on the right road.
Plan to be consistent
There are so many great podcasts out there that fail to gain any real traction. Why? Well, the reason rests squarely with their lack of consistency. This kind of inconsistency can impact or even damage podcaster-listener relationships. By nature, we are creatures of habit. Back in the '90s, if the hugely popular sitcom, Friend's, missed its 8:30 pm Thursday timeslot, fans across the nation would have taken to the streets in protest. Okay, maybe not. But at the very least there would have been a ripple of disappointment across the show's dedicated fanbase.
While your podcast may not have that kind of notoriety, if listeners can't depend on you, why should they give you their time at all? The keyword here is "reliability." People want new content released on a timely schedule.
Consistency creates engaged listeners. These are the listeners that look forward to every new episode, they follow you on social media, happily read your newsletter, and support you by providing their feedback! 
Effectiveness of Branded Podcasts
As the podcast industry booms, the scope for in-depth studies on branded podcast efficacy has also grown. In 2019, BBC Global News published their much-needed data on why branded podcasts are so successful. 
The findings showed that branded podcasts are more effective than TV or radio ads. Researchers surveyed 2,500 consumers, using cutting-edge methods to measure respondents' "second-by-second brain activity" as they consumed podcast content. 
The Findings:
Branding stands out from the content, helping the message land with audiences

Branded podcasts achieve unique cut-through with listeners who avoid ads

Podcast listeners are active and will usually listen to a show when engaged in another activity such as house work or exercise.

Audiences who are listening while engaged in an activity are more receptive brand messaging

Branded podcasts create a positive association to that brand

Brands are able to communicate with audiences during their downtime, which were usually seen as previously unreachable moments
The overall study suggested that branded podcasts are more effective in reaching consumers than TV or radio ads. Also, they're ideal for catching ad avoiders and can contribute to 89% higher brand awareness. 
Brand mentions within these podcasts tended to stand out from the surrounding content, delivering 16% higher engagement and 12% higher memory encoding than the surrounding content. In addition, their emotional intensity, engagement, and memory encoding around brand mentions beat TV benchmarks by 22%.
"This study provides real empirical evidence demonstrating the opportunity in the audio space for brands, and partnering with experts in this space offers an exciting and effective way for them to reach audiences in a genuinely meaningful way".— Richard Pattinson, BBC
The godfathers of podcasting, NPR, found that 75% of podcast listeners took action in response to a sponsored message within an episode, including branded messaging.
What's the cause of this effectiveness? The same reason many people love podcasts: The intimate and conversational nature creates higher engagement and a feeling of closeness to the content and the people conveying these messages. 
Summary
A branded podcast is one of the best marketing tools to grow your brand in the 21st Century, by lifting the often stuffy business veil and offering a glimpse into the humanity and real-life voices behind a brand. As the pool of podcast listenership grows, people are on the hunt for quality content. When they find it, the stats show that they become dedicated followers, and the brand-positive knock-on effect from that can be astronomical. 
As many seasoned podcasters will tell you, it's not for the faint-hearted. That's why careful planning is the key if you want your podcast to be successful. Consistency is vital for growth, and so is having enticing branding, excellent audio, and engaging content.
The bottom line is you can't lose with a branded podcast- so what's stopping you?
THE NEXT STEPS
If you want to become unstoppable and have an idea for a branded podcast, our team at Lower Street can help you nail your podcast launch strategy, content, & promotion from the very first episode.
Lower Street, Next-level podcast production services for ambitious companies & consultants