Blog
Video Podcast: What Is It, How To Get Started and Why
Video podcasts are on the rise. Whether you're all in, or sticking to your audio-exclusive guns, discover everything you need to know about the newest kid on the podcasting block.
Last updated on: 30-06-2023
Trends. They exist in all facets of life. From fashion to sports, business to travel—and certainly in technology. As a new idea breaks away from current conventions, toward what was perhaps previously thought impossible, it grows in popularity.
But how do you know when a trend is simply a passing phase, or set to become the new norm?
Here at Lower Street, we've noticed a growing trend of our own. More and more people are asking us about video podcasts.
And as the number of inquiries about this newer podcasting format grows, so do the number of questions about it. So much, in fact, that we thought it was high time to put together a blog post to address them.
In this post, we'll deep dive into everything you need to know about video podcasting by addressing the four most frequently asked questions we hear:
What is a video podcast?

Should I create a video podcast?

What are the different types of video podcast formats?

How do I make a video podcast?
Whether video podcasts are a current craze or the next iteration of this rapidly-evolving medium, only time will truly tell. But, given the popularity of video content and the platforms that distribute it, it's likely a smart move to hedge your bets and at least consider creating video for your podcast.
What Is a Video Podcast?
A video podcast is—just as you'd expect—a podcast with video. These can be produced in different formats, which we'll address later on in this post.
While there is a visual component to every video podcast, the audio content is still very much the focus.
Now, some OGs of the podcasting world may call you out here. Many of the purists' definitions of a podcast necessitate the existence of a podcast RSS feed.
Yet because video podcasts are typically hosted on YouTube—less commonly on Vimeo or a podcast website—they may not necessarily have this in the same way that audio-only shows have an RSS feed to automatically distribute their catalog to podcast directories.
In saying that, podcast hosting sites like Transistor or Libsyn, can auto-post video or audio files (combined with your podcast cover art or background image of choice) to the video platform. And popular directory Spotify now supports the hosting of video podcasts through Spotify for Podcasters.
Additionally, YouTube conducted an RSS Ingestion Pilot. In its test form, it supported ad-free, audio-only episodes accompanied with a static, rectangular image. While YouTube weren't allowing for the "passthrough" of podcast tracking analytics, such as how many times an episode was listened to, it is still an indicator of YouTube's growing investment in podcasting.
Should I Create a Video Podcast?
Just because you can do something, doesn't necessarily mean you should.
Video may be the latest tactic to distinguish yourself in an ever-growing sea of podcasts, but does that mean it's right for your show?
Only you know your brand and the outcomes you aim to achieve through your show, so the first step to deciding whether you should create or pivot to a video format is to determine whether it aligns with your overall branding strategy and if it will assist in reaching your goals.
Weighing into the decision, you also need to factor in your podcast's ideal listener—the platforms they'll use to find you, and whether they prefer visual over audio—and your budget.
There's no denying that adding video to your podcast increases the complexity, time, effort and funds needed to produce a quality show.
But, before you rule it out entirely, consider the following as just some of the benefits of video podcasting.
Support the explanation of more complex topics or visual concepts
Depending on the format of your show and the concepts you are discussing, video can be highly beneficial in strengthening your audience's understanding of what is being discussed.
Frankly, some topics are easier to grasp when explained visually.
Whether that's seeing the speakers gesticulate and act out what they're explaining, or going as far as adding imagery, diagrams or charts to your video, your audience may increase their understanding and retention of your content with the addition of visual elements.
Expose your show to a bigger audience
Video podcasts are growing in popularity. Podcast Download, the study commissioned by Signal Hill Insights and Cumulus Media, reported that 57% of respondents preferred to listen to podcasts with video (whether playing in the background while listening, or actively watching). This was up 14% from the data collected just six months earlier.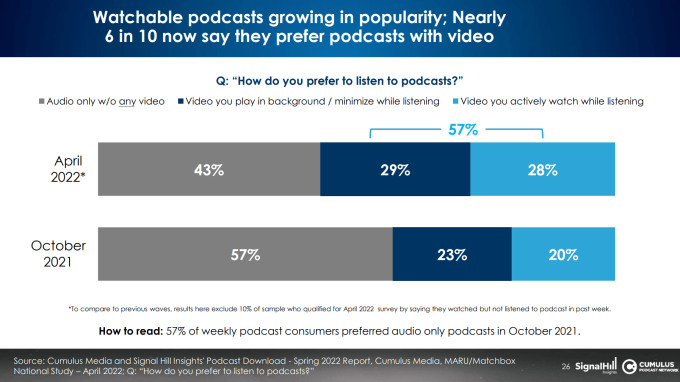 But it's not only about catering to those who are already sold on podcasts. Or leveraging the discoverability and growing reach of YouTube as the preferred platform for podcasts.
People just love videos. Wyzowl reported that in 2023, people are watching an average of 17 hours of online videos per week. Whether that be to help them relax and unwind, or access instructional or informative content, it seems many people simply can't get enough of video.
So, if it makes sense for the purpose of your show and the audience you're targeting, why not widen the net to capture all those video-lovers out there?
Repurpose content with ease (while giving it the best opportunity to perform on social media)
We've discussed the hows and whys of repurposing podcast content before. While we won't delve into details of how to repurpose video content here, it's safe to say that recording your episodes in full gives you a more than ample supply of footage to create bite-size, highly engaging, and social media-ready video snippets to share.
Think 60 second stand out moments, highlight reels, teasers, or even laugh-out-loud bloopers that grab the attention of those scrolling their social feeds.
In addition to saving you a heap of time in content generation, regularly sharing repurposed content allows you to easily and consistently post to social media—appeasing platform algorithms, which in turn, improves your platform rankings and increases your show's reach and exposure.
And with social media users being 51% more likely to share video content than any other type of content, you'd be a fool not to take full advantage of all that video footage.
It's a drum Gary Vaynerchuck has been beating since 2015.
Whether it's video on Facebook, Twitter, Snapchat or Youtube, the content you need to be thinking about creating and marketing on social for your business is video. Period.

Gary Vaynerchuck
What Are the Different Types of Video Podcast Formats?
We've addressed what they are and how you might benefit from them, so now it's time to discuss the different formats of video podcasts.
Just as with their audio-exclusive counterparts, video podcasts can come in several different styles. The one you choose will depend on the content and structure of your podcast, the effort you want to put into postproduction, and your budget.
A point of clarity. The formats listed here capture the entirety of your episode. Whether your episodes run 15 minutes or 50, the finished video—irrespective of format—contains the whole show. This is long-form content, not the short snippets and selected highlights we discussed earlier.
Static imagery or audiograms
If you want to push your entire back catalog of audio-exclusive episodes to YouTube, then this is the easiest and cheapest way to do so. By simply saving your audio file in a video format with a static background image—often the podcast cover art, photo of the host and guest, or image including text of pertinent show details—you can upload to YouTube.
With the lowest barrier to entry and minimal effort required, this option allows you to get your show in front of larger audiences without committing to the additional work that comes with recording and editing video.
While a single image displayed for the duration of an episode may not sound overly engaging, keep in mind that podcasting was first an audio-exclusive medium. Although more listeners are now using YouTube to source their content, many are happy to listen to it with the video playing in the background.
And if you do want to venture beyond the basic, an audiogram with a combination of visual elements such as static images, animated waveforms, text, closed captions, or a looping video will bring a level of sophistication to your video—as seen in CBC Podcasts' Someone Knows Something.
Importantly though, when your content's top-notch, even the most basic of static images won't dissuade audiences—as Dear Hank and John's 10.9k subscribers demonstrate.
Remote interview recordings
Remote interview recordings combine the footage of two or more speakers who aren't in the same physical location.
An example of a 'talking heads' video, the people being filmed speak directly into the camera, or look slightly off to the side. The shot typically concentrates on the speakers' heads and upper torsos, hence the name, which helps to keep the focus on what is being said rather than seen.
The level of quality and postproduction addition of any visual elements, such as the framing in this episode of Higher Learning with Van Lathan and Rachel Lindsay, will determine the time and effort involved here.
That being said, in these post-pandemic times, everyone is fairly familiar with the appearance and quality of a Zoom call. Audiences are less concerned with the image quality and camera angles when the conversation is captivating and the audio is good.
The barrier to entry for remote interview recordings can be quite low, but this depends on whether you're relying on the recording capabilities of your video conferencing software. Of the different ways to record a remote interview, it's the easiest yet least reliable—and leaves you vulnerable to audio drop outs caused by hardware or internet connection failures.
Related reading: How to Record Podcasts Remotely
In-studio recording
Best suited to interview podcasts, in-studio recordings film the conversation between the show's host and guests.
While a single camera that captures both the host and guest in one frame is easier, the more professional path is to opt for multiple cameras—one to focus on each individual speaker, and another wide angle of the whole room. The additional angles allow you to capture the words, reactions and expressions of each speaker in greater detail, but do come with more time in the editing room and a bigger investment in equipment.
Additional considerations for this format include your appearance, location and lighting.
Think about how you are presenting yourself, and the setting you're recording in. Do they align with your branding? Are they complementary of the style and tone of your podcast? Is the setting conducive to producing quality audio?
Consider these questions as well as the lighting. You may need to purchase additional lights to ensure your and your guests' faces are well-lit and clearly visible—without looking like you're under the fluorescent of an operating theater.
In-studio recordings can be as lavish or basic as your budget allows. Go big if you want to connect with professionals and you can afford to. But Grace Helbig's Not Too Deep: The Podcast serves as a reminder that things don't have to look perfect to make the most of this format.
Interviews with B-roll footage
The most intensive of the formats listed here, creating a video podcast that combines the recording of your interview with B-roll footage results in highly engaging content that newer audiences simply can't get enough of.
B-roll, or archival footage is any visual asset that you insert into your video file during the editing process. It can be anything from an image, chart or graph, to a news article or movie clip. Where you source it from will depend on what it is you or your guest are referencing—so be sure to have the legal green-light with the content you're adding.
While one could argue we're encroaching on the realms of television at this point, there's no denying that the format attracts the viewers. Murder With My Husband has 308K subscribers on YouTube, and this episode alone has clocked some 262,827 views.
This format is dynamic, with the B-roll footage captivating audiences and enhancing their podcasting experience. Keep in mind this comes at a cost.
The additional editing, and there is a lot, is both time-consuming and expensive.
It's the highest barrier to entry, possibly with the exception of creating an animated video of your entire show. But you'll either need an exceptionally talented team member or deep pockets to head down that road.
How Do I Make a Video Podcast?
How you create a video podcast depends on two key factors:
Which of the formats outlined above you decide to produce, and

Where you are in your podcasting journey when making this decision.
That is, are you just getting started or considering adding video as a means to broaden the reach of your long-standing show?
If you're starting from scratch, the fundamentals are the same regardless of whether your podcast includes visual components or is audio-exclusive. From ideation and production, to editing and promotion, we've covered the entire journey in many of our comprehensive guides, including:
Obviously, however, the addition of video does bring about several more steps to getting your show off the ground.
Decide on your video format
Deciding on the format of your show is the fundamental first step that impacts everything moving forward. From purchasing equipment to calculating the hours required for postproduction editing, there are huge differences in the needs of a video podcast with static images compared to one that incorporates interview and B-roll footage.
Get this step right by spending considered time in the research and planning phase. Define what success will look like for your show, what greater business outcomes you hope to achieve, and determine the best format to make that happen. Analyse competitors and evaluate listener data to make an informed decision.
Purchase video equipment
Although smart phones are increasingly capable these days, having a good-quality camera is a non-negotiable for delivering the most engaging content. It allows you to capture crisp visuals, showcase facial expressions, and enhance the production value of your episodes.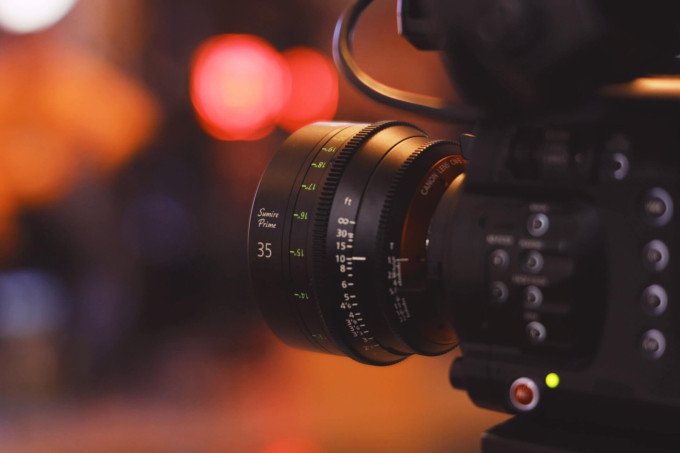 If you have budget constraints, an external webcam can be a cost-effective option to deliver decent video quality. Some examples of good webcams used by podcasters are:
Razer Kiyo

Microsoft LifeCam HD-3000

Sony ZV-1
Using a handheld video camera is also an option. They're not as expensive as DSLR cameras and offer the added advantage of continued filming even when placed on a tripod—by comparison a DSLR switches off automatically after 30 minutes.
Some top options include:
Panasonic HC-VX981K

Panasonic X2000

Canon VIXIA HF R800
We recommend you don't rely on the audio capturing functionality of your video equipment and instead record, and edit, each episode's audio footage independently of the video.
If you are just starting out, check out our recommendations in our posts on the best podcast equipment for every budget and the podcast software needed for recording and editing your show.
Create a custom thumbnail image
Before you upload your episodes, you'll want to create a custom thumbnail, which is the tile image audiences see when browsing video platforms.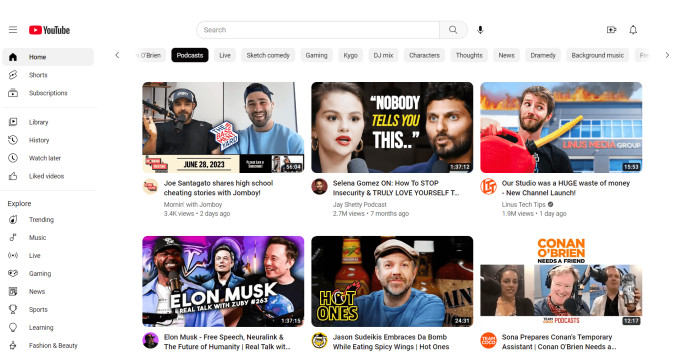 While YouTube and other platforms can automatically generate a thumbnail from a random moment in your video, you want to put your best foot forward. With 90% of the best-performing YouTube videos making use of custom thumbnails, why wouldn't you take the opportunity to create an attention-grabbing image that attracts viewers and best represents your episode?
Just be sure to adhere to all Community Guidelines and image dimensions.
To Video or Not to Video?
Humans are often visual creatures. We respond to facial expressions, connect more deeply with what we can see, and even place more trust in the video-based advice than other mediums. Video podcasts allow us to build trust and authenticity, to invite our audiences into the conversation and make genuine connections with them.
Whether or not you think video podcasts are a passing trend or here to redefine the industry, the decision to create one is, ultimately, up to you. And it's critical to consider your audience, branding, goals and resources before you decide.
If you want help determining whether video is the right move for your branded podcast, speak to our expert team. We can guide you through every step of the podcasting journey. From conception to creation, we're here to help you create the perfect show to achieve your podcasting goals.